GATE Specialties
your worldwide source for quality gear!
Our Products
take a look at what we can deliver
GATE Specialties is your solution for equipment sourcing through our extensive worldwide network of suppliers. Brands and products on this site are just a sample of what we can offer. If you do not find a particular product, ask us. Chances are we already have it or know how to get it!

GATE Specialties is the exclusive distributor for 908 Devices' Safety & Security markets in the Benelux. 908 Devices is bringing the powerful capabilities of Mass Spectrometry out of the confines of centralized facilities and mobile laboratories. The company makes battery- operated, handheld, chemical detection tools, rugged enough to exceed military standards, and trusted enough for immediate action in the field.
GATE Specialties distributes DetectaChem's products in Europe. With a specific focus on the Benelux region. DetectaChem is a Texas, USA-based privately-held and DEA licensed company and manufacturer of rapidly deployable, handheld, intelligent, and easy-to-operate detection systems deployed globally. DetectaChem specializes in trace explosive and narcotic detection with highly accurate and patented automated colorimetric technology. The products are simple to use and maintain, yet sophisticated in function and design.
GATE Specialties is proud distributer of First Tactical products, supplying products that meet the needs of public safety. Founded by the legendary Dan Costa, First Tactical is a renowned manufacturer of quality functional tactical apparel, combat footwear and tactical gear, aimed at law enforcement, military and firefighting professionals, and outdoor enthusiasts. Guided by the principles of innovation and reliability, First Tactical products are built with cutting-edge materials and field tested to guarantee durability and functionality.
GATE Specialties is the only company in Europe that supplies the authentic Smith & Warren badges. Smith & Warren has been proudly manufacturing badges and uniform insignia in the United States since 1925. Together with Smith & Warrens' creative art department we work with customers to develop a custom badge to their exact specifications. Every badge is hand crafted by these skilled artisans, carefully inspected and held to the highest quality standards in the industry.
GATE Specialties creates exceptional quality embroidered patches, challenge coins and pins that can be used in a variety of applications. We have made patches for organizations, government agencies, military and law enforcement purposes. Patches are used for a multitude of purpose. Our products are created especially for your individual need. You can choose every shape, size or color. We are really looking forward to working with you!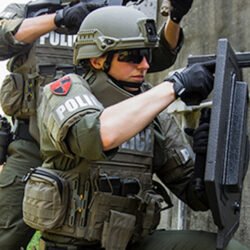 GATE Specialties offers a wide selection of many personalized promotional clothing products and we classify ourselves as a One-Stop-Shop for your personalized promotional clothing and apparel. We have extensive experience in working closely with our customers to find the perfect solution for them for the best quality product at the right price. Of course, all within a reasonable timeframe for production and delivery.