Drug detection on your smartphone
MobileDetect from DetectaChem inc. (Houston, TX) is the next generation of field drug test kits. It is a patented, Department of Defense-derived technology that converts smart devices into trace drug detection tools. MobileDetect brings advanced screening technology to law enforcement and first responders for detection of drugs in street and distribution packaging, mail and parcels, interdiction, and more
The MobileDetect Pouch allows for trace and bulk detection using (low cost test pouch consumables) the integrated swab and proven colorimetric reagents. When used with the FREE MobileDetect App, detection becomes automated, removing subjectivity when reading the pouch for results.
MobileDetect Pouches
MobileDetect Pouch from DetectaChem brings presumptive drug field testing to the masses. These next generation field drug test kits were designed to allow for trace and bulk detection by using the integrated swab and proven colorimetric reagents. The MobileDetect Pouch is a cost effective and powerful tool for presumptive drug detection. The pouch can be used on its own or with the MobileDetect App for automated detection.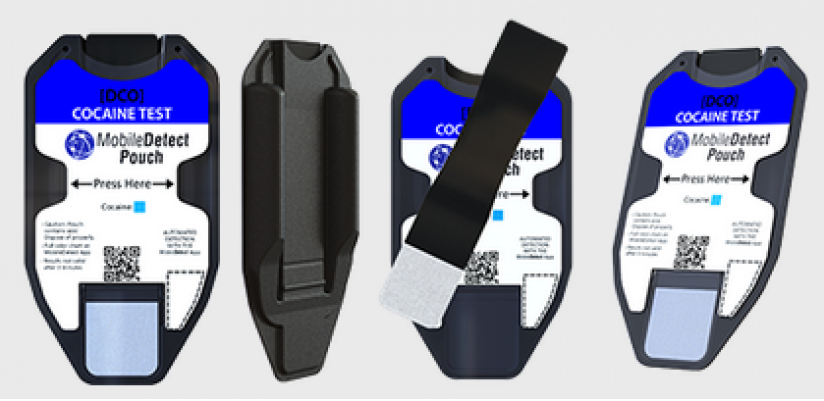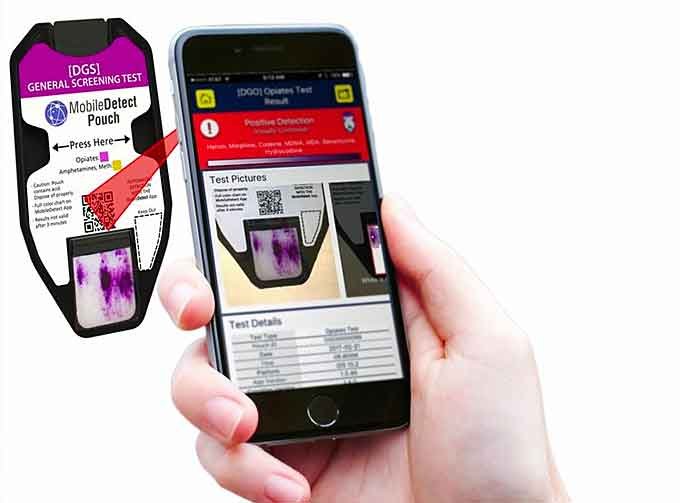 Smartphone detection
The MobileDetect App brings automated presumptive drug detection to the masses. The MobileDetect App, which is available for download on both iOS and Android, automates the detection process of the MobileDetect Pouch. The App performs automated detection by capturing a picture of the MobileDetect Pouch and analyzing the reaction that has taken place on the testing swab. The MobileDetect app balances the image and adjusts for variations in situational lighting to make a more confident determination that removes variance in interpretation.
With automated detection
The MobileDetect App allows for instant PDF reporting with pictures, GPS mapping, time/ date stamp and more. Reports can be sent directly from your smart device. Law Enforcement, Correction- al Facitilites, Military, Hazmat, School Resource Officers, Private Security, Personal Testing, and More through the MobileDetect App, the user does not have to reference color charts and detection is not reliant on individual perception or at risk of human error.
| Title | Description |
| --- | --- |
| Technology | Automated Colorimetric |
| Sampling | Non-visible (trace) and Bulk |
| Sample Type | Removable Swab for acquiring sample or particulate |
| Recommended Device | Latest models of Samsung or Apple device with 12MP camera or better |
| App Requirements | Most iOS/Android Devices supported (iOS 8.0 or later). Camera flash recommended |
| Reporting/Logging | Test info saved on app (notes, pictures, test details, time stamps, GPS/map location and more). PDF report generation. Sharing via email, txt, Dropbox, print, drive, etc |
| Substances Detected | Fentanyl analogues, Heroin, Opiates, Methamphetamine, Cocaine, Synthetic Cannabinoids, THC, Ketamine, GHB, LSD, PCP, Mushrooms, Ephedrine, Gunshot Residue, and more |
| Updates | All library and interface updates at no cost |
A variety of substance detection
MobileDetect Pouch allows for presumptive identification for a large number of drugs and substances outlined by the DEA as drugs of concern according to the drug scheduling.
DetectaChem is constantly expanding MobileDetect Pouch offerings to keep up with the evolving detection needs for substances and drugs on the streets. MobileDetect Pouches offer preliminary detection for: